In the beginning, God…
That's how the Bible begins – in the beginning, before anything, God.  That sets the tone for the rest of history.  God is the Source, the Point of Origin.  He is the Creator, the Sustainer, the Provider, and the Savior.  Yes, eternally our Savior.  John 1 says of Jesus Christ, the Word and Light:
John 1:1-5: In the beginning was the Word, and the Word was with God, and the Word was God. 2 He was in the beginning with God. 3 All things were made through him, and without him was not any thing made that was made. 4 In him was life, and the life was the light of men. 5 The light shines in the darkness, and the darkness has not overcome it.
And, if the Son is eternal, that would make God eternally Father.  He is eternally loving, relational, and life-giving.  Jesus said,
John 17:24 – Father, I desire that they also, whom you have given me, may be with me where I am, to see my glory that you have given me because you loved me before the foundation of the world.
So this eternally loving, relational, life-giving God made humans in His image, as the crown of His creation.  We, as male and female, were created to reflect God's loving, relational, and life-giving character by being fruitful and multiplying on the earth.  We were also given dominion over creation, to rule as stewards on His behalf.  God, the Source of the universe, also has given us our purpose.  The two main questions of a worldview are covered.
What do these two truths mean for your life?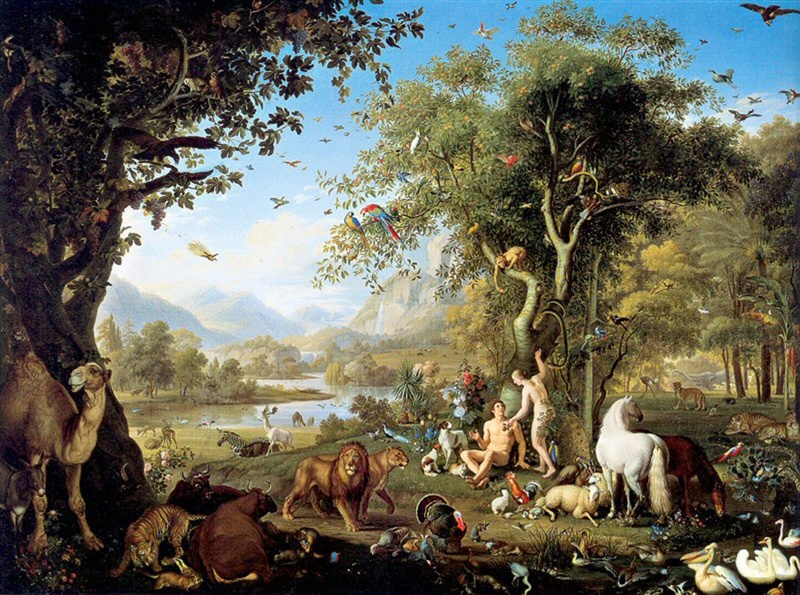 What happened next?
As the first chapter indicates, Genesis (and the Bible) is all about God, and His relationship with us.  As you read through Genesis, consider making a heading for each chapter, outlining what God does, and how people respond.  It could go something like this:
God creates – Humans reflect & rule
God provides – Humans fruitful & multiply
God commands – Humans sin & cursed
God gives – Humans kill & divide
God sustains – Humans walk with God
God distinguishes – Humans evil or righteous
God cleanses – Humans destroyed
God promises – Humans saved
God renews – Humans blessed, cursed
God multiplies – Humans unite in pride
God divides – Humans disperse on earth
Out of all His creation, God sets aside humans to bear His image and represent Him on earth.  He blesses them to be fruitful and multiply, but they rebel and are cursed with death.  Their offspring divide, veering in two directions: a sinful line, and a righteous line.  The seventh generation of evil is Lamech, who kills two people; the seventh generation of good is Enoch, who walks with God.  Humanity is sinful and divided.
So, God decides to start over.  He sets aside Noah and his family, the only remaining members of the righteous family line, and wipes out the rest of evil humanity.  He promises to never again do this, and renews the blessing and affirms their value as image-bearers.  But, by the next generation, we are already seeing both blessing and curses.  This time, humanity rebels against God by pridefully uniting, to make their name great, and to reach up to God.  God comes down, and disperses them into many languages and nations, so that they will fill the earth, as intended.  Now, a third new beginning is in order…
What a story!  Do you notice the flow?  The repetitive cycle that has begun?
More such patterns occur as you continue through the Bible, especially in books like Judges and 1-2 Kings.
Many have wondered why God would create such a world – that would "mess up" and need to be "re-started."  If God is so powerful and perfect, how could His creation go so wrong?  That's where His purpose comes in – He has always planned to work through people who choose to love Him.  He is raising children, not robots.  He started by setting aside humans from animals.  Then, He set aside the righteous line of Noah.  Finally, in chapter 12, He will set aside one family to be a blessing to all…
He has always been inviting people into a relationship with Him – people who hear His calling and recognize their God-given purpose.  He invites us into a lifelong journey of transformation, an eternal experience of love, hope, peace, and joy.
We have the privilege of learning about this in the Story that Scripture lays out for us – including the stories of many individuals who walked with God.  This year, I invite you to journey together through "God's Story" – a sequence of historical books in the Bible that make up its main narrative.  I look forward to getting to know God and His purposes for us in the year ahead!
***This post is part of a series, titled "God's Story," which also involves a God's story and sermon series.